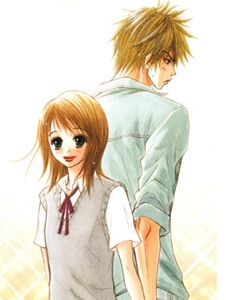 Dengeki Daisy (電撃デイジー, Dengeki Deijii) is a shōjo romantic comedy manga by Kyousuke Motomi. It was published in Japan in Betsucomi magazine and into 16 tankobon volumes. The first one was released on October 26, 2007 and the last one on February 26, 2014.
Outside Japan, the series is licensed in Taiwan by Ever Glory Publishing, France by Kazé Manga, Canada, UK and USA by VIZ Media, Germany by Tokyopop, Poland by Waneko and Indonesia by M&C! Comics. Amazon listed the first English volume for release in North America in February 2010 and it was released on July 6, 2010. The series was voted as the best shōjo manga of 2010 by North American fans in the 2011 About.com Manga Readers' Choice Awards.
When Teru Kurebayashi's older brother died, she was left with little more than a cell phone containing the text-address of an elusive character named DAISY, who Teru's brother had told her would "support her when he was no longer able to." DAISY became Teru's pillar of strength, over the next few years as he sent her encouraging words through his phone, whether inspiring or mere chatter, as she faces her life alone.
One afternoon, after bullies from the student council are mysteriously driven away, Teru accidentally breaks a school window, which results in her working for the grouchy, cruel school janitor named Tasuku Kurosaki. As Teru begins working for the unlikable school janitor, her feelings begin to surpass that of master and servant and she begins to question DAISY's true identity. Could Kurosaki be her beloved DAISY? Meanwhile, Kurosaki is finding himself steadily drawn to Teru. Will he "reach out" to her?
External links
Edit