Welcome
Dengeki Daisy database that anyone can edit!
6,250 edits to 129 articles since it was made! You can help us by contributing!
This wiki contains a lot of spoilers relating to Dengeki Daisy. Read at your own risk!

Please see below for important pages.
---
---
About Us
·
Community Portal
·
Recent Changes
·
Policy
·
Images
·
Templates
·
Wanted Pages
·
Help
About Dengeki Daisy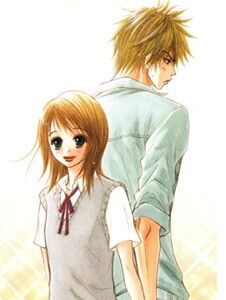 Dengeki Daisy (電撃デイジー), a shojo romantic comedy manga by Kyousuke Motomi. It is currently published in Japan in Betsucomi magazine. The series is licensed for English release in North America by Viz Media.
When Teru Kurebayashi's older brother died, she was left only with a cell phone that connects her to DAISY, someone her brother promised would support and protect her when her brother is gone. DAISY soon becomes her greatest confidante and pillar of strength.
When Teru accidentally breaks a school window, she winds up becoming the "servant" of the sadistic school janitor, Tasuku Kurosaki. As she begins working for the unlikeable Kurosaki, her feelings for him change and she begins to question DAISY's true identity.
Please Help Out!
Right now, Dengeki Daisy Wiki needs a lot of your help. Anyone can help out just by adding info and sharing anything you know about the Dengeki Daisy manga, though the best way to start adding info is by editing articles that need more info. If not editing, then please help out by adding a photo. We'll be counting on you! Thank you so much for your time!
Featured Article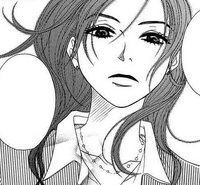 Riko Onizuka (鬼塚 理子, Onizuka Riko) is the school counsellor at Teru Kurebayashi's school, as well as Soichiro's girlfriend; she sees Teru as a younger sister and they live together as roommates. As a member of Soichiro's design team, Riko is also of a friend Tasuku Kurosaki and aware of his identity as Teru's protector, DAISY.

Read more...
Featured Manga Chapter
Featured Image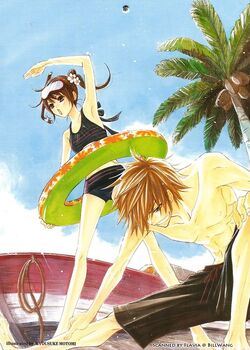 Summertime!
Characters
Featured Quote
"
If my stories can touch you, make you laugh, forget unhappy things, or even give you that 'good job' feeling, then I'll be super, super happy!
"
Kyousuke Motomi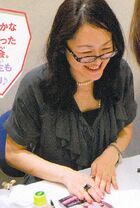 Kyousuke Motomi (最富 キョウスケ Motomi Kyōsuke) is a Japanese manga artist whose stories have frequently been published in the monthly Betsucomi magazine. She is the author and artist of Dengeki Daisy.
Featured Main Poll
WikiaAnime Twitter Feed

<twitteruser username="WikiaAnime" limit="3"></twitteruser>
Help Start A New Article
Start a new article

To start a new article, just enter the article title in the box below and click Create New Article.

<createbox> width=24 break=no buttonlabel=Create New Article </createbox> If not, then please help out in the stub pages.
Community content is available under
CC-BY-SA
unless otherwise noted.